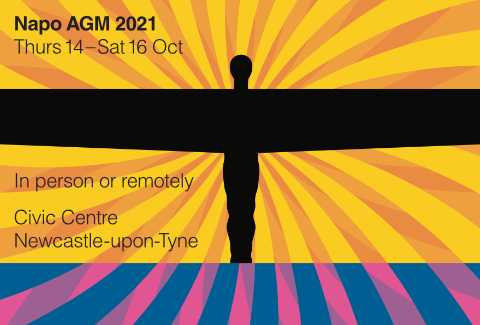 Napo's 2021 AGM will be a hybrid event. Conference will be streamed live from Newcastle Civic Centre,  Newcastle-upon-Tyne. Members can also be able to attend ONLINE and will be able to participate (speak, raise points of order, etc., ask questions and VOTE online).
Conference dates are Thursday 14th October (2.00pm start) to Saturday 16th October (1.00pm finish).
Members wishing to attend the ONLINE EVENT can register for AGM online below. You will need to make payment via credit or debit card at the point of registration so please have your card ready.
Members wishing to attend in person MUST USE THE ATTEND IN PERSON REGISTRATION SITE or via their branch.  If you need any assistance in contacting your branch in order to register your interest in attending in person please email events@napo.org.uk.
---
All AGM papers will be posted on line on the website as they become available - click here for papers and further information.
All queries about AGM should be directed to events@napo.org.uk
IMPORTANT - if you will require assistance with childcare to facilitate your attending AGM, please indicate in the special requirements box and someone from HQ will contact you.
Please note that due to security restrictions at workplaces, it is not possible to register online from your workplace.