Well a number of places actually,  starting from a freezing Biggin Hill in Kent whilst awaiting the early morning pick up from Sky News for my 07:15 live interview in Millbank. Getting out of bed at unearthly hours for media appointments comes with the job so no complaints there, but it tests your organisational skills as well as working out what excuse to give the Dog as to why he won't be taken out for a walk this particular morning.
No journey to a TV studio is complete of course until you and the driver have gone through the 'what do you do for a living?' routine so it have me a good opportunity to explain what I do but more crucially what our members do be it in trying to turn lives around, making sense of family breakdowns and safeguarding children as well as the wider public. Safe to say that on arrival in Westminster we had another supporter of our cause (unfortunately Napo membership is not applicable to professional drivers yet).
Westminster
Arriving at the Sky studios I managed to see the Probation feature that was put together by Home Affairs Editor Mark White and his team just before my live interview. Some of the filming for that was against the backdrop of the Napo Office so my thanks to the team for not making funny faces behind my back.
Much more important were the excellent interviews with an NPS and a CRC Napo member suitably anonymised of course to prevent their employers coming down on them like a ton of bricks. Members will, I am sure, endorse my appreciation to them.  I had also insisted that the programme feature a victims perspective and that was also included as a tragic testimony to the contribution of unsafe operational models in this and other SFOs in the Working Links CRCs which the employers are still in denial about. Isn't it time they engaged with the unions?
These days 'live interviews' are usually done remotely and staring into a box with a camera in it while deciding which key points you can get over in around 2 minutes is nowhere near as appealing as looking the interviewer in the eye. No I can't help but make the analogy with impersonal supervision arrangements either.
Mad Bishop and Bear
Paddington Station does not have many quiet spaces so I set up in this particular hostelry (over an Earl Grey tea before you ask) in preparation for the Talk Radio live slot at 8:20. By this time I had been receiving positive messages from members and a number of old friends who happened to be watching and also heard the welcome news that other radio outlets had picked up on the sky coverage.
I was hoping to be able to share the footage with you here in this blog, but technical difficulties over at Sky means they were unable to send it over to us. However, I hear that it is running as part of the regular Sky news bulletin throughout the day.
Cardiff
So here I am at 'The Big Conversation' event at the Welsh Assembly, brilliantly organised by Napo Cymru Branch and featuring a panel of speakers including our own Dean Rogers returning to his home turf to debate: where next for Probation in Wales?
A well attended session in the Senned where a combination of practitioners, third sector providers, social campaigners and writers and representatives of organisations such as Safer Wales and the Welsh Commission for Justice met to look at the social impact of Transforming Rehabilitation and how a fresh approach to service provision and accountability needs to be delivered within Wales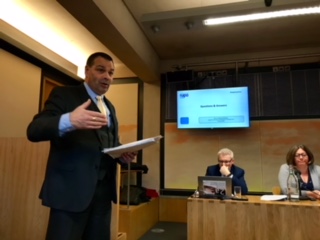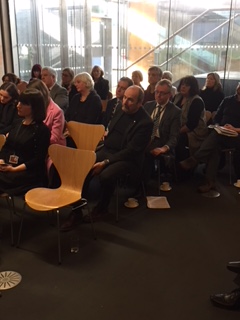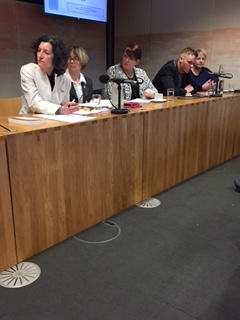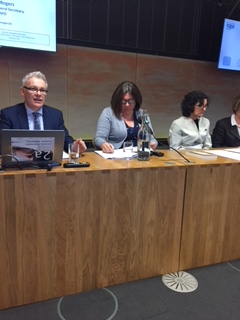 Key questions that emerged during an absorbing debate included whether there ought to be a locally accountable commissioning body, and if so, how do we ensure robust and accountable leadership alongside a unified and integrated delivery model.
It was also resoundingly recognised that the 'probation for profit' experiment had been an abject failure and that the discussion going forward must also focus on ways in which value for money can be achieved by way of strategic investment strategies for the benefit of communities.
Reference was also made in the Q&A session to the lessons that can be learned from  initiatives such as those adopted in Scotland of targeted crime reduction initiatives involving the community and knife amnesties.
We also heard how third sector involvement has all but collapsed within the majority of CRC's and how politicians can pressure central government to release resources into areas such as the female prison estate and the need to reduce this drastically by offering better facilities.
Other areas including a Licence to Practice, liaison with sentencers and the fact that the NPS still has it's fair share of operational and administrative problems.
A good day for Napo
My concluding thoughts on the day are that by any standards our small union has yet again shown that we are capable of securing high profile coverage of our issues and today's successes follow on from last week's oral evidence to the Justice Select Committee from UNISON and ourselves which has received appreciative feedback from members and retired members.
The TV recording of that session was mailed out to you all last week and in that respect I also want to thank a number of Napo members who provided me with important testimony of their direct experiences from their workplaces which I was able to reference when needed and which have been anonymised and subsequently submitted to the Committee members for their consideration.
All this shows Napo pulling together for our common cause.
New look Communications
More news on a range of issues is in the pipeline and will feature in the next edition of the new look Blog template which is another example of the skills of our in house Communications team and how we are investing money wisely. It's important then for members to ensure we have a private e-mail address for you so that we can reach you and consult with you too on the key issues that you care about.
Just wait till you see the new bi-monthly magazine, for which I am told we have a list of members wanting to become Official Distributors. Let Tay Burke here at Napo know if you want to be added to it. tburke@napo.org.uk