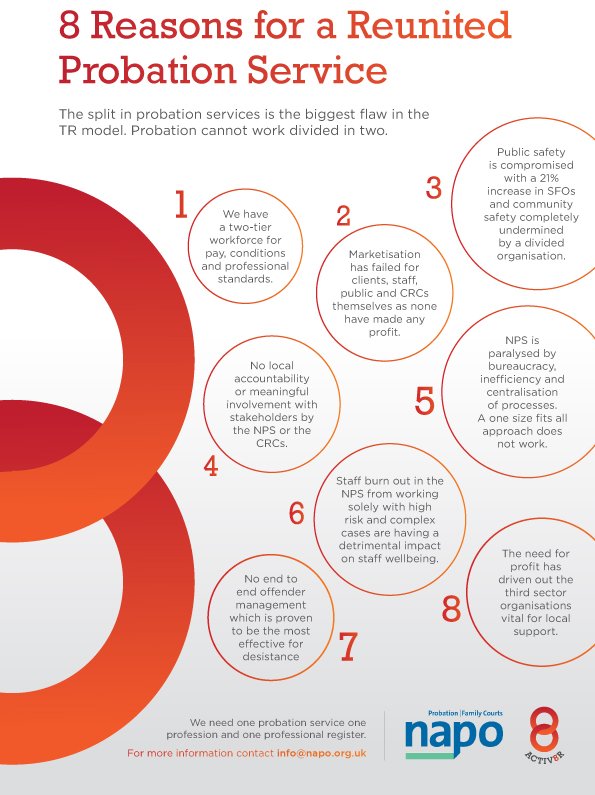 Napo's campaign to reunite the Probation Service starts now. The campaign is to be launched on the back of recent media coverage of the dangers of a split probation service evidenced by the shocking rise in SFOs since TR.
Napo will be urging Ministers to halt the current remarketisation exercise, following the MoJ 'Strengthening Probation' consultation. and crucially to bring the whole of the service back together under one agency - as is now proposed in Wales.
The first stage of the campaign will be to get parliamentarians on-board. The arguments we will be making will focus on 8 reasons for a unified probation service:
We have a two-tier workforce for pay, conditions and professional standards.
Marketisation has failed for clients, staff, public and CRCs themselves as none have made a profit.
Public safety is compromised with a massive increase in SFOs and community safety completely undermined by a divided organisation.
No local accountability or meaningful involvement with stakeholders by the NPS or the CRCs.
NPS in paralysed by bureaucracy, inefficient and centralisation of processes. A one size fits all approach does not work.
Staff burn out in the NPS from working solely with high risk and complex cases are having a detrimental impact on staff wellbeing.
No end to end offender management which is proven to be the most effective for desistance.
The need for profit has driven out the third sector organisations vital for local support.
Napo will be producing briefings for parliamentarians and the media on each of the 8 reasons over the coming 8 weeks.
We also hope to secure a date for a drop-in event in parliament, where MPs will be invited to meet with Napo Officials, Officers and Members at the event and to hear directly about the dangers of the split service and the need for this to end.
Napo has also produced postcards outlining the campaign and these are going out to branches now. We will be asking you to send a card to your constituency MP asking them to support the campaign.