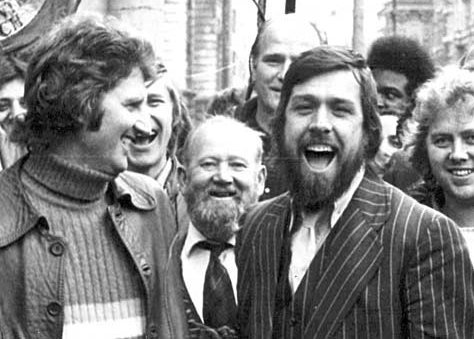 Great news! The Shrewsbury 24 Campaign has won a crucial victory in its long struggle to overturn the convictions of the building workers who were tried in 1973/74 for picketing during the national strike. On Tuesday 30 April 2019, halfway through the Judicial Review hearing in the Birmingham Administrative Court, the Criminal Cases Review Commission conceded the case. It agreed to reconsider the referral of the convictions of the pickets to the Court of Appeal. 
The pickets had asked the CCRC to refer their convictions on two main grounds: (i) recently discovered evidence that original witness statements had been destroyed and that this fact had not been disclosed to the defence; and (ii) the broadcast of a highly prejudicial TV documentary during the first trial, Red under the Bed, the contents of which was contributed to by a covert agency within the Foreign Office known as the Information Research Department.  After considering the case and all the evidence submitted by the Campaign, the CCRC had steadfastly refused to make that referral.
Four of those pickets, Nick Warren (for his late father Des), John McKinsie Jones, Michael Pierce and Terry Renshaw, together with the Campaign, refused to be bowed by this decision and pursued judicial review of the CCRC as lead applicants of the wider group. They were represented by Jamie Potter of Bindmans LLP and Danny Friedman QC of Matrix Chambers. The CCRC continued to defend the proceedings until the day of the hearing, before Lord Justice Flaux and Mrs Justice Carr. Then, two hours into the hearing, the CCRC took the unusual step of the case of conceding the case. It agreed to withdraw its earlier decisions of October 2017, turning down the pickets' applications.
The CCRC has agreed that it will now reconsider whether or not to refer the convictions of the Shrewsbury 24 to the Court of Appeal.
Eileen Turnbull, Researcher and Secretary of the Shrewsbury 24 Campaign said, "This is a magnificent success. We are one step nearer to achieving our goal of justice for the pickets. The Shrewsbury 24 Campaign has worked tirelessly over the past 13 years. Today's result is a testament to all our hard work and the support of the labour movement."
The chairperson of the Campaign, Harry Chadwick, added, "It has taken us over 13 years to track down the fresh evidence to put before the courts. The Labour Party and trade unions have stood by us throughout, particularly my union, Unite. The fight goes on until we achieve justice for the pickets."
Convicted picket, Terry Renshaw, who members will remember speaking at last year's AGM in Southport, was delighted, saying: "When I left court yesterday I almost cried with joy. We have now had three judges saying that we have an arguable case.  We look forward to the day when the CCRC sends our case back to the Court of Appeal."