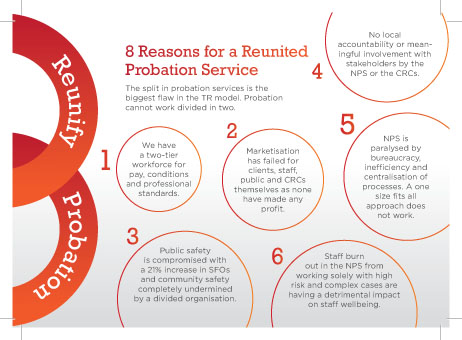 Napo's campaign to reunite the Probation Service continues to receive validation. The collapse of Working Links and now Interserve would cause any sane government to doubt the wisdom of continuing to outsource probation services to private companies. Nearly all of the seven CRC owners have experienced severe problems making their contracts work and as a result have received bail out after bail out from the MoJ.
The publication of a damning report by HMPI, which follows the NAO report, earlier this month calling in to question the whole TR strategy, not only financially but also the practicality and wisdom of running a divided probation service lends even more wieght to our campaign.
Napo will be holding a drop in event in parliament on Wednesday 1st May where Napo Officers and Officials will be available to meet with MPs during the event and present them with our case for a reunified probation service under public ownership and control with a greater focus on local engagement.
Our reunite probation "8 Reasons Postcard" campaign was launched in January and members are urged to contact their constituency MP about the campaign, if they haven't already done so. Please write in your examples of the need for reunification.
Cards are available from your branch or from Napo Head Office - contact campaigns@napo.org.uk