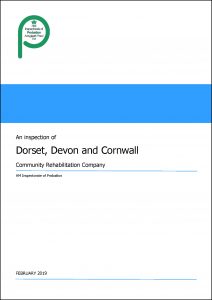 HM Chief Inspector of Probation Dame Glenys Stacey welcomed the government's intervention following an inspection of Dorset, Devon and Cornwall Community Rehabilitation Company. The CRC has been given an overall rating of 'Inadequate' – the lowest possible rating.  The publication of the inspection report is timely coming at the time when Working Links – which owns Dorset, Devon and Cornwall CRC –  announced it is going into administration. Dame Glenys welcomed government action to ensure probation services continue to operate saying; "Our inspection found Dorset, Devon and Cornwall CRC is not delivering probation services to anywhere near the expected standard. Most of their work is poor quality and puts the public at unnecessary risk".
She continued: "We found professional ethics compromised and immutable lines crossed because of commercial pressures. Workloads are unconscionable – in some offices, the average caseload is between 80 and 100. This is unmanageable and puts professional staff in an invidious position.
"The situation is intolerable: the government must intervene. This CRC needs to take urgent remedial action to improve the quality of its service.
"Without intervention, public confidence in the delivery of probation services in Dorset, Devon and Cornwall will be further diminished and professional staff further compromised. The CRC supervises more than 4,000 individuals – they need a decent probation service to support them to move away from further offending."
You can view the full report and the press release on the HMP website