#IWMD20 - Remembering the dead and fighting for the living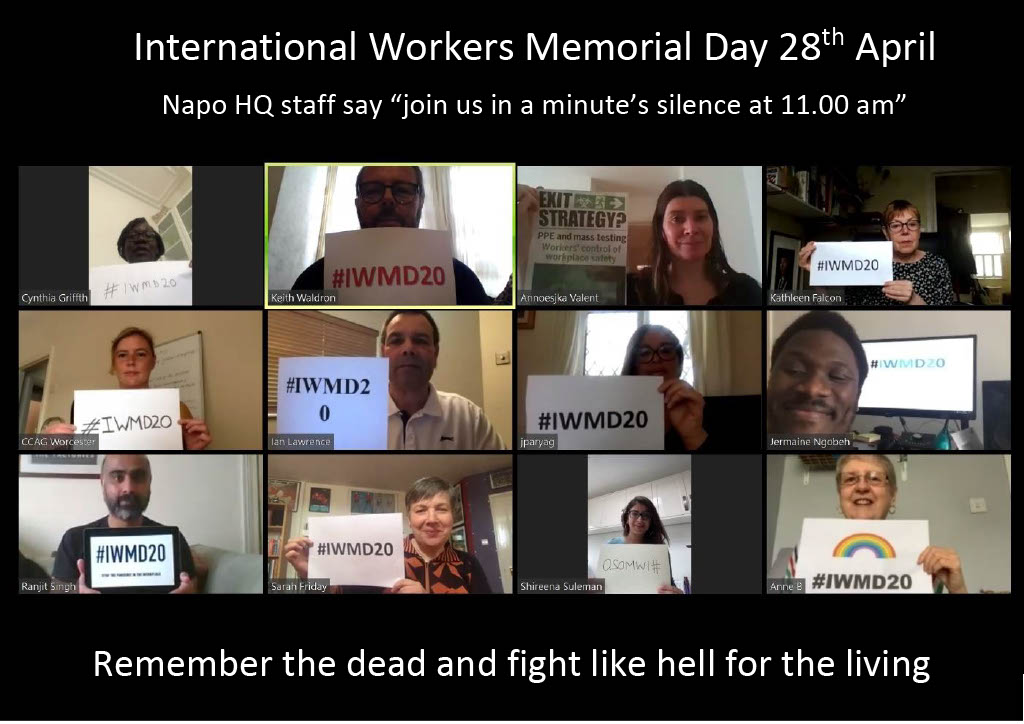 Yesterday (28th April) was International Workers Memorial Day. The "theme" of this year's event was to have been stress, but this was overtaken by what is happening across the world with the global Coronarvirus Pandemic. So the day became an occasion to remember all those who have lost their lives at work, including the thousands of frontline workers who have died from coronavirus.
While the pandemic restrictions also meant that we were not be able to attend memorial events which usually take place on IWMD a number of other ways to pay tribute to the brave front line staff and essential workers who daily risk their lives and their families safety to keep vital services running, to protect others and to save lives.
The TUC and Health Unions had called for a minute's silence at 11.00am. Health and care workers, transport workers and postal staff stopped work across the country to honour the silence.
Napo members up and down the country, many working from home but many also out in the community, in APs and in prisons, also took part in the event. READ MORE
Two year pay deal for Sodexo CRCs
Napo members in the six Sodexo owned CRCs have voted to accept a two year deal.  The joint union ballot closed on Monday 27 April at 5PM.  Napo members voted 86% in favour of the deal covering the years 2020/21 & 2021/22. This pay agreement builds on significant pay reform secured in the previous agreement and it will ensure that for each of the next two years staff at the top of the pay bands will receive a 2.5% unconsolidated increase and those moving up the pay scale will receive a minimum 2% increase each year.  For full details of the pay agreement please see the Joint Union Sodexo Pay Bulletin here.  
MPs probe misleading answer to PQ on NPS pay
A Parliamentary Question put down by Liz Saville Roberts MP, Chair of the JUPG, was answered by Justice Minister, Lucy Frazer, last week. The MP asked what the Secretary of State for Justice would be taking to ensure that National Probation Service staff are paid their contractual increments on time.
The misleading answer was: "In 2018 agreement was reached with National Probation Service (NPS) Trade Unions on pay modernisation. This replaces automatic pay progression with a new scheme that will link pay to professional development. Development of this scheme has been delayed. Clearly, this is a scheme that all parties want to get right and therefore we are working with Trade Union colleagues to implement it as soon as possible. We are committed to ensuring that NPS staff receive their annual pay award at the earliest possible point during 2020/21. When the pay award is made, it will be backdated to 1 April 2020."
This is disingenuous to say the least. The reference to professional development is not only inaccurate, it masks the fact that the Treasury have intervened and not authorised payment.Napo has briefed the parliamentary group who will be putting down a series of further PQs to draw out the deception have been tabled. READ MORE