Heading back from Manchester and the hugely successful Family Court Section Annual General Meeting yesterday, gave me an opportunity to reflect on the appallingly unrealistic demands being placed on our CAFCASS members who are trying to shore up a family justice system that is creating record caseloads, bigger demands on allocated time with clients and their children, and the perennial difficulties caused by the burgeoning number of litigants in person.
We also heard from a senior circuit judge whose sympathy on these issues and their willingness to take the messages back to their colleagues was massively welcome.
If there are any members of Cafcass' senior management team who are reading this then they ought to be seriously concerned at the sheer sense of frustration and anger that I witnessed yesterday at the Peoples History Museum (founding principle: there is always an idea worth fighting for) as Napo representatives and members carried a number of motions that instruct their elected leaders and the HQ Team to seek serious engagement with senior management. The gist of this is that Napo stands ready to find common ground to find some solutions with CAFCASS leaders but in turn we expect the reality of the situation to be taken back to the MoJ and their Ministers.
What members everywhere can do
As I said to our FCS members,  the nature of the work may differ across the employers where our members work, but the symptoms of the workload crisis are the same whether you are in CAFCASS, the NPS, a CRC, or in Probation Board Northern Ireland.  
Excessive working weeks, untaken and ridiculous amounts of TOIL, part time workers using their non-working days to keep their heads above water, people coming in at weekends or working their leave days out of sheer desperation.
And its why Napo has launched the Workloads Campaign; why we are part of a joint unions Stress Survey and why we are out on the stump as Ranjit Singh and I have been today at Leicester (Napo East Midlands) trying to get across the message which is:
You dont have to take this nonsense anymore!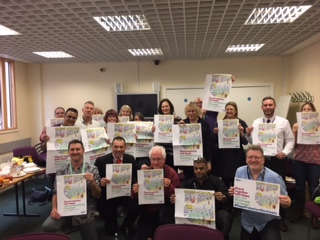 International Women's Day and our bargaining agenda
Napo members (and in some cases babies as well) did us proud with various campaigning activities on Wednesday to highlight our issues around the time it has taken to secure agreement and implementation of the Maternity Policy into the NPS and at the same time mark this auspicious day with a show of solidarity.
We will be getting some pictures up on the Website but I wanted to thank everyone who took part for taking time out and helping us to make our point which has certainly been noticed.
The issues around the Maternity Policy and harmonisation of policies generally, are now at an advanced stage, and this weeks productive negotiations have set out a direction of travel which, if all things go to plan will allow us to consult members during April.
Do look out for more news when I have it.